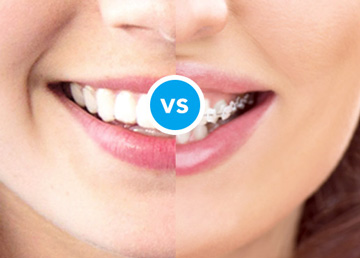 Clear Aligner Therapy is a type of orthodontic treatment that helps to straighten teeth without the use of traditional braces. Patients wear clear aligners that are custom-made. The aligners are virtually invisible and fit snugly over the teeth.
Why Consider Clear Aligner Therapy
According to the American Dental Association, straightening your teeth can actually significantly affect your overall dental health. Properly positioned teeth are easier to brush and floss than teeth that are crowded, crooked or spaced too far apart. When teeth are aligned properly, it also helps gums fit more securely around the teeth, allowing for the healthiest defense against potential periodontal problems. In addition, correctly aligned teeth can also alleviate the issues that can be caused by an improper bite, speech or chewing difficulties, jaw problems, and increased wear on the tooth enamel. Clear aligner therapy effectively addresses all of these orthodontic issues, so you'll have the confidence of a great smile and increase the likelihood of improved oral health.
Preparing for Clear Aligner Therapy
The first step is for you and Dr. Fernandez to discuss your treatment needs and determine if clear aligner therapy is right for you. Dr. Fernandez will then take a 3D digital impression of your teeth using our CEREC Ortho Software. He will map out a precise treatment plan, including the exact movements of your teeth and how long your treatment will be. Dr. Fernandez will show this map to you so you can see how your teeth will move and preview your new smile.
The 3D impression and treatment plan will be sent electronically to SureSmile or Align Technology where your custom-made clear aligners will be made.
Clear Aligner Therapy – SureSmile® and Invisalign®
Dr. Fernandez will give you a series of aligners that have been custom-made for you. Each aligner shifts your teeth slightly, moving them horizontally and vertically and even rotating them when needed. When you change to the next set of aligners (typically every week) your teeth will gradually move into position, following the custom treatment plan mapped out by Dr. Fernandez.
You should wear your aligners for 20 to 22 hours a day for the best results and always take them out to brush and floss. Dr. Fernandez will schedule check-ups every six weeks or so to see how you are progressing. Every case is different but the average case takes about 12 months for an adult.
Maintaining your Beautiful Smile
Once clear aligner therapy is complete, Dr. Fernandez will most likely recommend you wear a retainer to prevent your teeth from shifting back into their original position. This is a common occurrence with all orthodontic treatment and can be easily prevented with the use of a retainer.