Tips for Good Pediatric Oral Care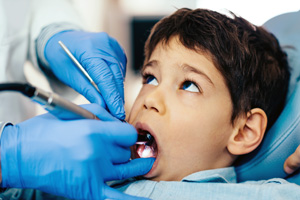 It is important to practice good oral care and proper nutrition from the very beginning. Primary (baby) teeth do eventually fall out, but until they do, they are necessary to help your child bite, chew food, and speak clearly.
Before teeth have erupted (come through the gums), use a damp washcloth to clean your baby's upper and lower gums.
Begin brushing your baby's teeth with a soft infant tooth brush and water 2 to 3 times a day as soon as they become visible in the mouth.
Never let your child fall asleep drinking juice or milk in a bottle. The sugar coating the teeth can contribute to tooth decay.
Children should brush their teeth with a pediatric, soft-bristled toothbrush at least two times a day and floss daily.
Using fluoride toothpaste - The American Dental Association recommends brushing twice a day with a grain size smear of fluoride toothpaste and water up until the age of 3 and then with a pea size portion of fluoride toothpaste twice a day from age 3 and older.
Supervise and/or aid your child's brushing and flossing until you are confident they can brush and floss effectively on their own.
Professional Pediatric Oral Care
We see children in our office starting from the time their first teeth appear in their mouths. It is important to schedule the first dental visit by the time your child turns two. This allows us to ensure your child's teeth and gums are healthy and developing normally.
We love our little patients and want their visit in our office to be a fun adventure they enjoy! Of course, a fun adventure wouldn't be complete without a visit to the treasure chest full of fun prizes our little patients get to choose from.
What to Expect at Your Dental Visit
For our littlest patients, a visit to our office generally consists of a quick exam. Our patient will be asked to open wide and Dr. Fernandez or Dr. Cox will take a peak at the gums and any visible teeth to ensure normal development. We will perform a simple cleaning if possible.
As our little patients get older, a visit will consist of an exam and also a cleaning to remove plaque build-up and food debris and possibly x-rays. We will also check for proper brushing and flossing techniques and provide tips for good oral care at home. As more and more permanent teeth erupt, we may recommend dental sealants or orthodontic care.
Dental Sealants
When your child's molars come in (around age 6 for first molars and around age 12 for second molars) we may recommend dental sealants. A dental sealant is a thin protective coating that adheres to the chewing surface of your back teeth (molars). It provides a coating that keeps bits of food and bacteria from adhering to your teeth. Molars have rough and uneven surfaces making them challenging to keep clean even using proper brushing techniques. Sealants have been shown to reduce the risk of decay by almost 80% in molars. According to a report released in 2016 from the Centers for Disease Control, "School-age children without sealants have almost three times more cavities than children with sealants."
Applying sealants is quick and painless. Your back teeth are cleaned and dried. An acidic gel is then applied to each molar which roughs up the surface of the tooth to allow the formation of a strong bond between the sealant and the tooth. We will rinse off the gel after a few seconds and dry the tooth. The sealant will then be applied to the surface of your molars and a special blue light will be used to harden the sealant material.
Good Oral Care for a Lifetime
Good habits started at a young age are likely to continue for a lifetime! Great pediatric oral care at home and in our office leads to great adult oral care. We are here all along the way to help our patients, young and mature, maintain a healthy smile.