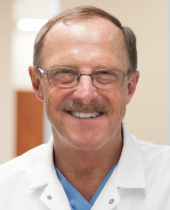 Daniel Cox (Dan) is a third generation dentist and is Dr. Fernandez' father-in-law. Dr. Cox graduated from the University of Michigan School of Dentistry in 1970. After graduation he taught part time at the dental school and went into private practice with his father in Ypsilanti, Michigan. After his father's retirement, with the help of his wife, Patty, he ran a busy single dentist practice for 44 years.
During his years in Michigan, Dr. Cox was active in numerous community organizations and his church. In addition he served as President of the Washtenaw District Dental Society, Secretary and Trustee of the Michigan Dental Association and Delegate to the American Dental Association. He is a life member of these organizations. He is currently a member of the Tidewater Dental Association, Virginia Dental Association, Bunting Periodontal Society (past President), Vedder Society of Prosthodontics, International College of Dentists and Pierre Fauchard Academy. Over the years he learned and performed a variety of dental procedures from the simple to the more advanced. He has a great interest in prosthodontic, restorative, implant and esthetic dentistry, but also enjoys other aspects of dental practice.
Dr. Cox and Patty sold their dental practice in July 2014 and moved to Virginia Beach to be closer to their daughter, son-in-law and grandchildren. He enjoys continuing to practice the dentistry he loves part-time in our office and at the Beach Health Clinic where he is a regular volunteer. Dr. Cox also enjoys spending time outside at the beach, biking or walking and especially time with his three grandchildren.